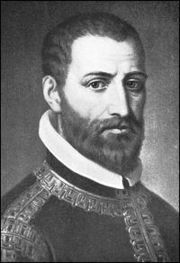 also known as
Jacob Arcadelt
Born: c.1505-1507 in or near Liège, Belgium
Died: 14 Oct 1568 in Paris, France

Jacques Arcadelt
Probably Franco-Flemish by birth, as an adult Arcadelt traveled and lived in Italy (Florence by the late 1520s, Rome by 1538) before going to 1559 to France, to the service of Charles de Guise, Cardinal of of Lorraine as "Maître de chapelle". He wrote sacred and secular vocal musics concurrently.

Church Music - Possibly at one time a pupil of Josquin Desprez, Arcadelt left a certain quantity of church music, including settings of the Lamentations of Jeremiah, three Masses, the Magnificat, and various settings of Marian and other texts. In 1539, he became a member of the Sistine Chapel becoming appointed "magister puerorum".

Secular Vocal Music - Arcadelt's principal interest as a composer was in secular vocal composition, with a quantity of French chansons and Italian madrigals. He enjoyed considerable fame in his time and was important in the early development of the madrigal form. His style was considered to represent an ideal with later reprints of his first book, Il Libro Primo di Madrigali, being used for teaching and going through 45 reprints. He wrote 24 motets, 125 chansons, and about 250 madrigals. There are about 250 more madrigals that have survived anonymously that he may have written.