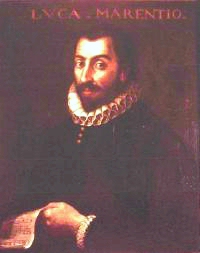 also known as
Luca Marentio
Lucas Marentius
Lucas Marentii
Born: 18? Oct 1553? in Coccaglio, Brescia, Italy
Died: 22 Aug 1599

Luca Marenzio
One of seven children, his father was a notary clerk in Brescia, apparently barely making a living. Although there are questions about his date of birth, a fair guess can be made as his father notes in 1588 that Luca is 35 and there is a hint that he's named after St. Luke whose feast day is 18 October.

Few details are known of his life until July 1578 when he goes to Rome to work as a singer for Cardinal Cristoforo Madruzzo. Continuous employment upheaval dogged his career which kept him travelling over much of Europe, even to Poland.

Although his career only spanned about twenty years, he gave the world 24 books of secular songs (one of which has been entirely lost), mostly madrigals but also canzonettes and villanelles, and four books of sacred music consisting of sacred motets, antiphons, and madrigali spirituali. Eighteen of the secular books were produced in just nine years (1580-1589). Although obviously very prolific as a composer, he never stayed with any particular style but constantly experimented and developed new ways of working with the sounds of the times, even at times putting to music the poems of writers like Dante and Plutarch. Thus, many music historians avow that Marenzio brought the Italian madrigal to apex in terms of technical development and artistic satisfaction. He was acknowledged then and now as a very influential composer particularly, interestingly enough, in England.